We won't be having a lot of giveaways on Hints and Tips Blog but I thought this one was fitting for the holiday. Be sure to enter quickly because it is a flash giveaway that will be over in only 3 days.
With Easter just around the corner this giveaway is great for everyone! It is short but help make it a great success by sharing with your friends.
Good luck everyone!
Color Garden Egg Coloring Kit Giveaway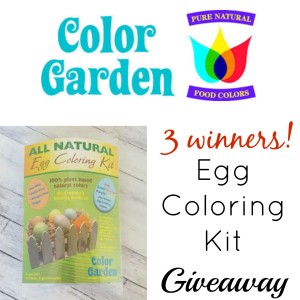 Color Garden has an amazing selection of natural dyes that can be used in things like frosting, drinks, foods and just in time for Easter, an egg coloring kit!
Color Gardens all-natural dyes so they DON'T STAIN your hands or clothing!
(That is every parent's dream am I right?)
Now you can enter to win a Color Garden Egg Coloring Kit to use this Easter!
3 Winners
Read the full review here
Color Garden Egg Coloring Kit Giveaway
MamatheFox and all participating bloggers are not held responsible for sponsors who fail to fulfill their prize obligations.
Be sure to like my Facebook page so you get notified of my giveaways. If it shows up on this blog as a giveaway it has to be something like cash, high on everyone's want list or fitting for the current holiday.
If you love giveaways visit my review and giveaway blog and enter them all and who knows you might get lucky.
This blog is fairly new and could use all of the follows it can get on Twitter, Instagram and Pinterest as well.