Everyone need clean fresh water, I hoe you like this giveaway. Good luck!
Clean water is such a blessing! Having accessible clean water is often taken for granted. Santevia not only filters your water but also adds in helpful minerals and balances the pH levels! Even the World Health Organization recommends consuming mineralized water for the maintenance of optimal health. By increasing your families minerals you can help their overall health goals.
The Santevia Gravity Water Filtration System restores your tap water to a clean, great-tasting, mineralized and alkalized state, using the power of gravity alone – no chemicals, artificial materials, water pressure or electricity!
If you don't want to miss some great hints and tips and only the best giveaways sign up for my newsletter here. Thanks for entering and good luck!
Now you can enter to win one for yourself! To learn more about this awesome system check out the full review.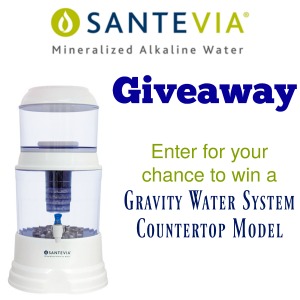 MamatheFox and all participating blogs are not held responsible for sponsors who fail to fulfill their prize obligations.
If you would like to sponsor a giveaway like this, email [email protected] and we will figure out the best way to promote your product.
Love giveaways? Find more here.
If you liked this giveaway, you might want to enter one of these: (just click the image)